Programs: Administration:
Adventures In Education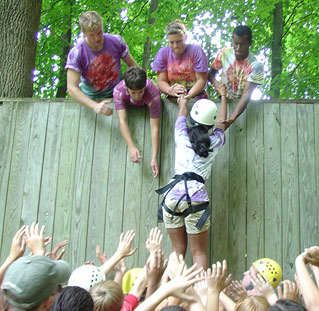 What I hear, I forget. What I see, I remember. What I do, I know.
Adventures in Education is designed to improve teamwork and cooperation, life skill development and self esteem through hands on highly experiential "fun" activities.
Low Ropes programs use a team building model and a series of structured problem solving activities to promote behavioral change, self-esteem and life skill development. All activities use the concepts of challenge and adventure to motivate and stimulate the participants' willingness and enthusiasm for change.
Low Ropes programs are based on the individual's actions and how those actions affect the group or persons around them. Some of the issues addressed are: communication, listening skills, following directions, trust, power of group cooperation, physical and emotional support, decision making, problem solving, leadership / followership issues, respecting individual differences within the group and being responsible for one's own actions.
High ropes activities provide participants with physically, emotionally and intellectually challenging activities, as well as a more exotic program of learning experiences. Adventurers develop beyond their perceived limits and reach a higher level of self-actualization.
High ropes experiences are characterized mostly by individuals challenging their own "perceived limits", setting goals, dealing with fears, safe risk taking and commitment when decisions are made. All elements are belayed by professional, supportive, trained staff. High perceived risk-low danger.