Programs: Educators:
Motivational Speeches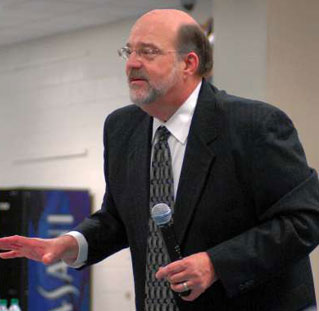 Thom Stecher is a nationally recognized motivational speaker. Thom captivates audiences by making himself vulnerable through sharing his personal experiences. Thom ties these to the universal lessons creating, maintaining and celebrating human relationships.
Thom will utilize his unique life experiences to inspire, challenge and motivate. Thom has three special needs children labeled: gifted, dyslexic and "profoundly retarded." Throughout his personal talk he tells the story of a father learning how to recognize, appreciate and admire the individual talents of his children while addressing their special needs. He reminds us that we cannot learn or succeed on our own. He celebrates the importance of the school community in the development of each student and each parent. Thom's talk refocuses us on what is important- each other.
These speeches are perfect as keynote for the school year or anytime the staff needs revitalization or a statement of appreciation from one educator to another.

As a school leader for more than two decades it has been my "best practice" to have Thom work with each of my faculties on the value of educating the whole child as well as helping our teachers in rediscovering their emotional gifts.