Master's Degree
Guidelines
Guidelines for the Neumann University's Master of Education with an Emphasis in Social Emotional Learning.
Welcome
Welcome to Neumann University's Masters of Education with an emphasis in Social Emotional Learning. We are excited to respond to the needs of area educators who wish to focus on the whole child through the integration of academics with social emotional learning.
Overview and Mission
Neumann University's graduate program leading to the Master of Science in Education with an emphasis in Social Emotional Learning is consistent with, and driven by, the University's Mission Statement. The nature and purpose of this degree program is to provide educators the opportunity to acquire a wide range of knowledge and skills designed to prepare them to assess and meet the needs of all learners in their schools. The goal of this program degree is to assist educators in providing learners with the skills they will need to recognize and successfully manage their emotions, develop positive relationships, make responsible decisions, and constructively handle challenging situations.
The core of the program is building community. All content and courses are infused with community building activities for the classroom, school building, district and family. All instructors are Neumann University Adjunct Faculty who specialize in Social Emotional Learning and the program is one of the few in the nation emphasizing the needs of the whole child. The goal is to make explicit how social emotional learning integrated into academics improves attendance, graduation rates and prospects for employment, increases capacity for learning, mastery of subject material, commitment to school, time devoted to school work and standardized test scores while reducing suspensions and grade retentions. Your program will be exciting, challenging, invigorating, rewarding, practical, meaningful and immediately transferable to the classroom.
Program Design and Outcomes
The Master of Science in Education with an emphasis in Social Emotional Learning is designed to offer coursework that provides the student with the skills and abilities to be able to:
Assume instructional leadership positions (e.g. lead curriculum projects, engage in mentoring roles in schools)
Orchestrate strategies and techniques in socially, culturally and emotionally diverse classrooms
Comprehend the relationship between the pedagogical objectives of the school and the range of social emotional skills, talents and interests of a diverse community of learners
Articulate the challenges faced by and capabilities of educators and demonstrate contemporary bests strategies and techniques for culturally and educationally diverse classrooms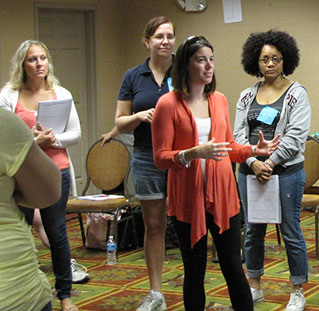 Expectations for Students and Instructors
We appreciate your serious commitment to your Masters Degree. Courses are 42 total hours of instructional time with 30 hours in person and 12 hours of online work with instructors throughout the duration of the course.
Attendance at every class is very important and active participation is an essential part of the learning process.
Giving and receiving honest feedback is at the heart of healthy communication. Direct dialogues among students, instructors, and staff allows all program issues, learning needs and professional development goals to be addressed in a timely and respectful manner.
Admission Requirement
Submit a completed Application available at ThomStecher.com
Provide official transcripts from each regionally accredited, degree granting institution attended, including that of the baccalaureate degree
Complete a letter of intent, which includes a biographical sketch, professional experience overview, as well as professional, educational, social and emotional goals and objectives
Provide the names of three individuals who would serve as references; at least two of these are to be from professional educators who have known or observed the applicant
Arrange for an interview
Progression/Retention/Graduation Requirements
For the Master of Education With an Emphasis in Social Emotional Learning, continued progress requires that the student maintain an overall "B" average (cumulative 3.00 GPA) in the required courses and satisfactory participation in the program. Completion of all degree requirements for the program is not to exceed five years. Exemption to this time limitation must be applied for in a written request. Graduation from the program is contingent upon (1) submitting a signed Application for Graduation form to Neumann University 1 week before the date specified in the Academic Calendar; (2) successful completion of all course work; (3) an effective presentation of learning and dialogue with a selected committee of instructors; (4) The student must maintain an overall "B" average (cumulative 3.00 GPA) in all required courses, with no more than two grades of "C" level work.